If you've changed your mind about an unused deal voucher, we're happy to issue a full refund within 14 days of purchase. We'll still do our best to help outside this time, but we can't guarantee we'll be able to offer a refund.
We're sorry to say event tickets - tickets which are for a specified date and time - are non-refundable.
If you find yourself unable to use a voucher or ticket, you're always welcome to gift it to a friend or family member instead.
To request a refund for an unused deal voucher, simply sign in to your account and head to My Vouchers or select My itison > My Vouchers from the navigation bar.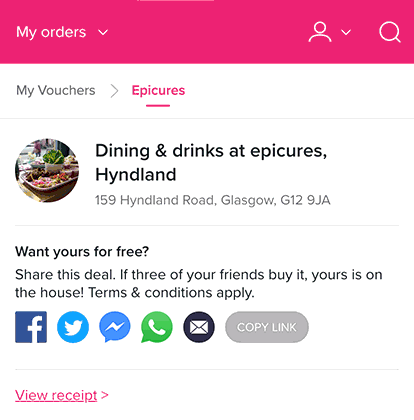 Select View Voucher for the order in question.
Select Get help with this voucher.
Select I'd like to cancel my voucher.
Choose the reason for your cancellation request from the drop-down menu, add a comment and select Request a cancellation.
If you'd like us to cancel multiple vouchers from the same order, please submit a request for each voucher.
Your refund request will be sent to our support team who will reply as soon as possible.
If you happen to change your mind about a refund and decide to use your voucher instead, just let us know by selecting Cancel refund request.
You can also request a refund by emailing support@itison.com - just make sure to get in touch from your registered email address, quoting your voucher code.