Any deal voucher can be sent as a gift once you've completed your order. It's not possible to gift event tickets, but you're still welcome to buy them for someone else. Just give your recipient our email with each of the ticket codes - we've made sure it doesn't contain any prices.
To gift a deal voucher simply sign in to your account and head to My Vouchers, or select My itison > My Vouchers from the navigation bar.
Select View Voucher for the order in question.
Select Give this voucher as a gift.
You'll be asked to enter your name, your recipient's name, and a gift message.
If you want to print the voucher to give as a gift, select Save Gift and Print Voucher. Your message should show at the top of the voucher, and you can select Print to go ahead.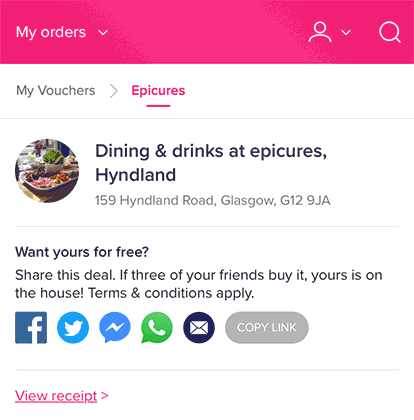 If you'd rather email the voucher to your recipient, simply enter their email address and select Send Gift. It'll be sent to them right away.