You can now make bookings online for a lot of the venues we work with, instead of having to call or email them.
If online booking is an option, you'll see a link to Book online now in the How to Book section of your voucher.
Select this link and you'll be taken to the venue's online booking portal. This will usually be a calendar where you can pick your preferred date and time before confirming your contact details.
If you only have a printed version of your voucher, you'll instead see a web address (url) to be typed into the address bar of your internet browser.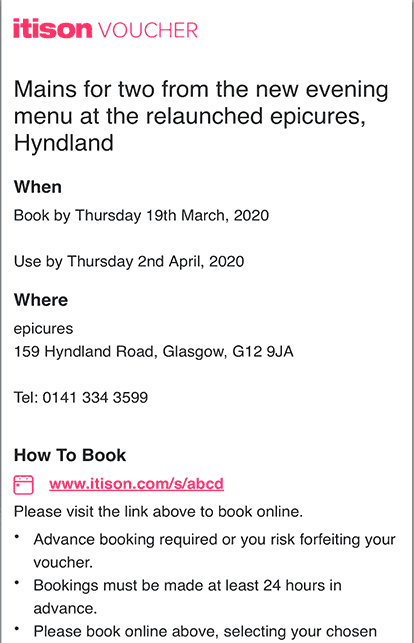 If you're having trouble accessing or using a booking portal, we'd initially suggest trying again using a different device. If the problem persists, drop us a line at support@itison.com and we'll be happy to lend a hand.
ResDiary
A number of the venues we work with use a booking portal called ResDiary.
To make a reservation in the Availability section, select your preferred date and time and confirm the number of people attending.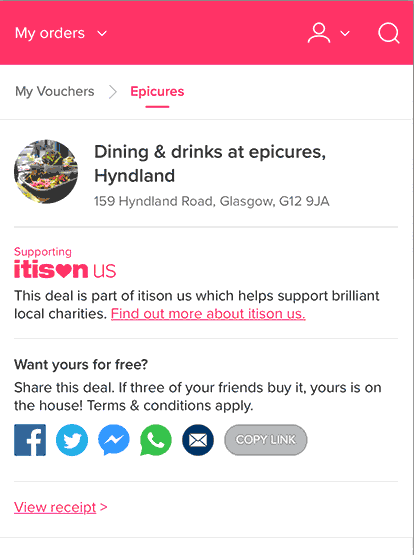 Select the relevant option from Available Offers. If no options appear, we're afraid all of the tables for our deal have already been booked. In this case, please try a different time or day.
Confirm your chosen time and select Reserve Now.
Enter your contact details, check the box to agree to the t&c's and select Complete Reservation. You'll be provided with a booking reference and you'll also receive an email confirming the details of your reservation.